Back to latest
Utilising Digital Signage To Connect With Your Customers
Digital signage can be used for much more than just a loop of images and video. They're so much more than just fancy TV screens. They can help you build better relationships with your customers and allow you to connect with them on many levels – whether through dynamic displays in a Quick Service Restaurant (QSR) or by completely transforming a retail environment.
Here are five ways to use digital signage to connect with your customers.
1. Mobile integration
Mobile integration is one of the best ways to reach consumers through digital signage. It creates a direct interaction between your brand and your customers and enables you to deliver a truly personalised experience. Once users are interacting, there are additional benefits, such as tracking exactly how they engage and what they're interested in, helping you to predict customer behaviour and tailor promotional offers, campaigns and messaging in the future.
So, how does it work? In some instances, digital signage systems can send messages to nearby phones through fairly close proximity Bluetooth beacons, encouraging users to click a URL to interact with the screen. But the easiest and most cost-efficient method is through displaying a QR code on the screen, or simply asking the user to act by visiting a website or posting on social media.
One of the most successful adoptions of mobile integration was Coca Cola's 'What's in a name?' campaign, which encouraged people in Times Square, New York to tweet their first name using the hashtag #CokeMyName. This generated trivia about their name, which appeared on a huge outdoor digital screen above Times Square. The image was then tweeted back to the user allowing them to retweet/share. The campaign generated over 350 million social impressions and 42,000 social posts during a three-week period. It cleverly used personalisation and a 15 second interaction with passers-by to generate global coverage and connect with tech-savvy GenZers, who are consuming less sugary drinks than their predecessors.
2. Kiosk integration
Integrating digital signage with self-service kiosks provides you with an opportunity to combine the interactivity of kiosks with the powerful messaging of the displays. As your customers browse or purchase your goods, screens and LED displays located around the kiosks can dynamically change based on the content being engaged with on-screen. This creates a fully immersive experience for the kiosk user, but additionally begins to engage other customers around the displays, intrigued at what is happening.
As with mobile integration, the data collected from these user interactions is extremely insightful and can be used to predict purchasing behaviour or determine future marketing. Kiosk data collection is automatic and accurate and can discern customer trends, such as which products are viewed the most and which are most likely to be abandoned at cart. It can also track individual customer behaviour, such as date of last visit, time spent browsing, favourite products, average order value and so on.
With this data at your fingertips, you can create targeted offers and messaging, displaying content on your digital screens that your customers are much more likely to be engaged with.
3. Dynamic displays
Dynamic displays can create extremely powerful digital experiences. They can update automatically, changing their content based on the time of day and day of the week, or in response to ambient conditions.
The scope of dynamic displays is vast, enabling brands to develop clever digital signage-based marketing campaigns. Common dynamic content triggers include weather data, traffic data and facial recognition, as well as sensors to identify people walking past or external objects.
JAQKS, a popular fast-food restaurant chain, has recently adopted dynamic displays and is rolling them out to its new restaurants. Situated above the counter and in the window, JAQKS' dynamic digital signage can change its content according to the time of day. For example, displaying lunchtime menus and offers in the middle of the day and automatically switching to evening menus and deals in the afternoon, making it much easier for customers to decide what to order.
4. Sensor displays
Movement sensors are a great means of interacting with your customers thought digital signage without requiring them to take additional steps to engage with the display.
Typically, when a person moves within a certain distance of a digital screen, the sensor will trigger specific content. When a customer enters a restaurant, a screen may display a welcome message; when a customer passes through a hotel lobby, a screen may display wayfinding information to help them locate different amenities; or when a customer stands near a product collection in a store, a screen may display a special offer. While the level of interactivity is low, sensor displays provide a unique way of conveying useful information to your customers, improving their overall customer experience.
5. Product interactivity
Radio Frequency Identification (RFID) is a technology that uses a scanner to identify objects and collect data from them using small, discrete 'tags', which can be attached to products of all shapes and sizes. The technology is commonly used in retail for stock-taking and processing purchases, as well as an anti-theft precaution. As consumers seek a more immersive shopping experience and retailers are finding new ways to reach and engage with their customers, RFID can now be used to interact with customers in different ways.
Paired with digital signage, RFID can help you deliver a higher level of service to your customers. For example, when a customer is browsing products in-store, RFID readers can identify when a particular product has been picked up, triggering a nearby digital screen to display information relating to the product, such as FAQs. This removes the hassle of seeking out a sales associate to ask questions about the product should the customer need to.
Product interactivity extends from the shop floor to the changing room. Smart fitting rooms consist of a touchscreen mirror equipped with an RFID reader, which senses when a customer enters the fitting room and detects the items they've brought in with them. The mirror display can then assist the customer by providing product information or recommendations and the opportunity to request different product sizes or styles without leaving the changing room. The next level of sensor technology, RFID enables digital screens to be used in ways that not only connect with the customer, but also enhance the shopping experience.
When it comes to building stronger relationships with your customers through digital signage, the possibilities are endless. If you want to explore how digital signage could transform the way you engage with your customers, we'd love to chat.
Related articles
.
---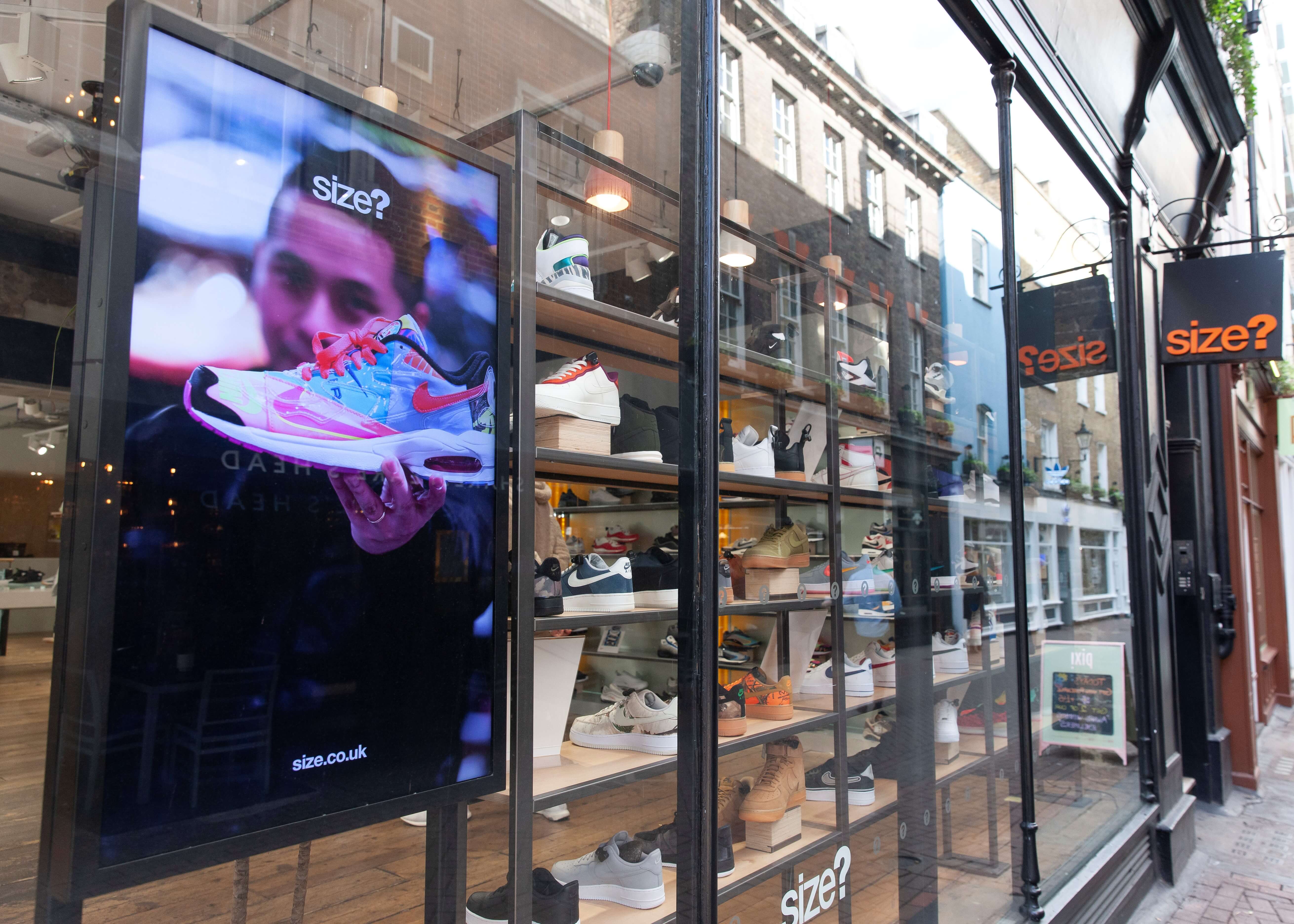 Digital signage is all around us, used by businesses worldwide to entertain, persuade and inform...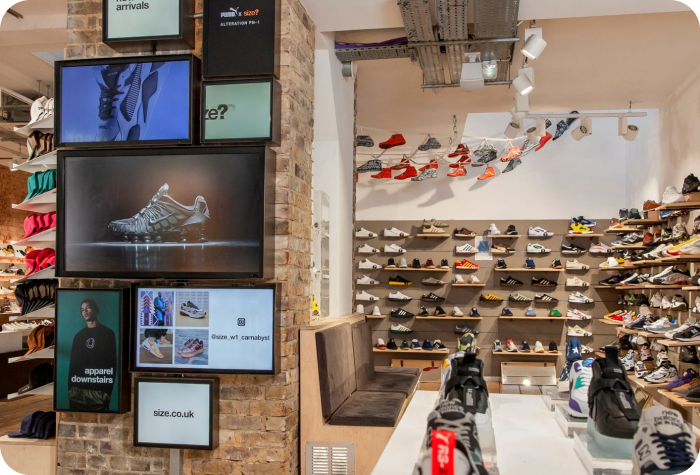 Digital signage is everywhere. We're now so used to seeing screens displaying advertising,...