We are delighted to see our contactless donation kiosks popping up around the UK rail network, making donating to charity easier than ever before.
Working in conjunction with Worldline, the European market leader in payment and transactional services, we developed the charity donation kiosks to support Network Rail's Routes out of Homelessness charity initiative this winter.
Network Rail has just signed the first pan-industry homelessness charter as part of its work to help homeless people across Britain. The charter brings together The Big Issue Foundation, Crisis, End Youth Homelessness, Railway Children and Shelter who are united to fight homelessness and rough sleeping across the UK. 2020 has brought challenges for many people and the charities that support those in need have seen a dramatic dip in their fundraising revenue due to cancellations of many fundraising events. Meanwhile, the number of those who need support is only set to grow as the UK grapples with the effects of COVID-19 on the economy.
The kiosks, which are being installed at Glasgow Central, Leeds, Manchester Piccadilly, Birmingham New Street and Reading stations, allow people travelling through the stations to donate between £3 and £15 quickly and easily by simply tapping their cards onto the payment terminal – a transaction that takes just a few moments.
Railway Children has been supported by Worldline for several years, and as an official technology partner, we are thrilled to get involved. This collaborative project demonstrates Worldline's and our commitment to supporting UK rail charities and a drive to help eradicate homelessness and rough sleeping across the UK.
Mary McLaughlin, Corporate Partnerships Manager, Railway Children said:
"We were absolutely blown away when we received the incredibly generous offer from Worldline and Evoke to gift us these donation kiosks. The Routes out of Homelessness partnership has the potential to make a very real difference to lives of people who are homeless or at risk of homelessness across the UK and to now have an easy way for rail users to donate and have an impact on the success of the initiative is just fantastic. Speaking on behalf of all the charity partners, I would like to say a heartfelt thank you to Worldline and Evoke for the kindness and compassion demonstrated through this gift."
Jo Lewington, Network Rail's Chief Environment and Sustainability Officer, said: "Working alongside our charity partners and the wider rail industry, we have the opportunity to provide real, meaningful support to those who need it most through Routes out of Homelessness. We were proud to sign the first pan-industry homelessness charter back in October, and the installation of these new donation kiosks marks another important step on our journey to supporting a route out of homelessness for every person sleeping rough around the rail network.
"We're delighted to be able to offer our passengers a quick and convenient way of donating at our stations and I'd like to thank Worldline and Evoke for backing Routes out of Homelessness with these kiosks."
Dean Ward, Evoke Co-Founder and CTO, commented: "Our solutions have found their way into a huge range of industries, from local libraries to Times Square in New York, but this is first time that we've had the opportunity to work on something so novel for the charity sector. The huge adoption we've seen towards contactless payment has made this project possible – as passersby can make their donation within just a few seconds. It's fantastic to see how payment and kiosk tech is now at the point where this type of project becomes possible, connecting charities to the public in a completely new way."
James Bain, Chief Executive Officer UK&I, at Worldline added: "I am so proud to be in a position to support Routes out of Homelessness through our innovative Giving Pod bringing together Worldline payment capability with Evoke's product design and integration creativity. The Railway Children charity is close to my heart from my first experience of Mad Day with Virgin Cross Country in the early 2000s to climbing Mount Kenya and dragging myself through the London Marathon. I have been privileged to visit their projects to see the amazing work they do.
"No child should be homeless, living on the streets, no human should be homeless living on the streets, not in the third decade of the 21st century. It is incumbent on all of us who have the power to help to do just that, no excuses."
Related articles
.
---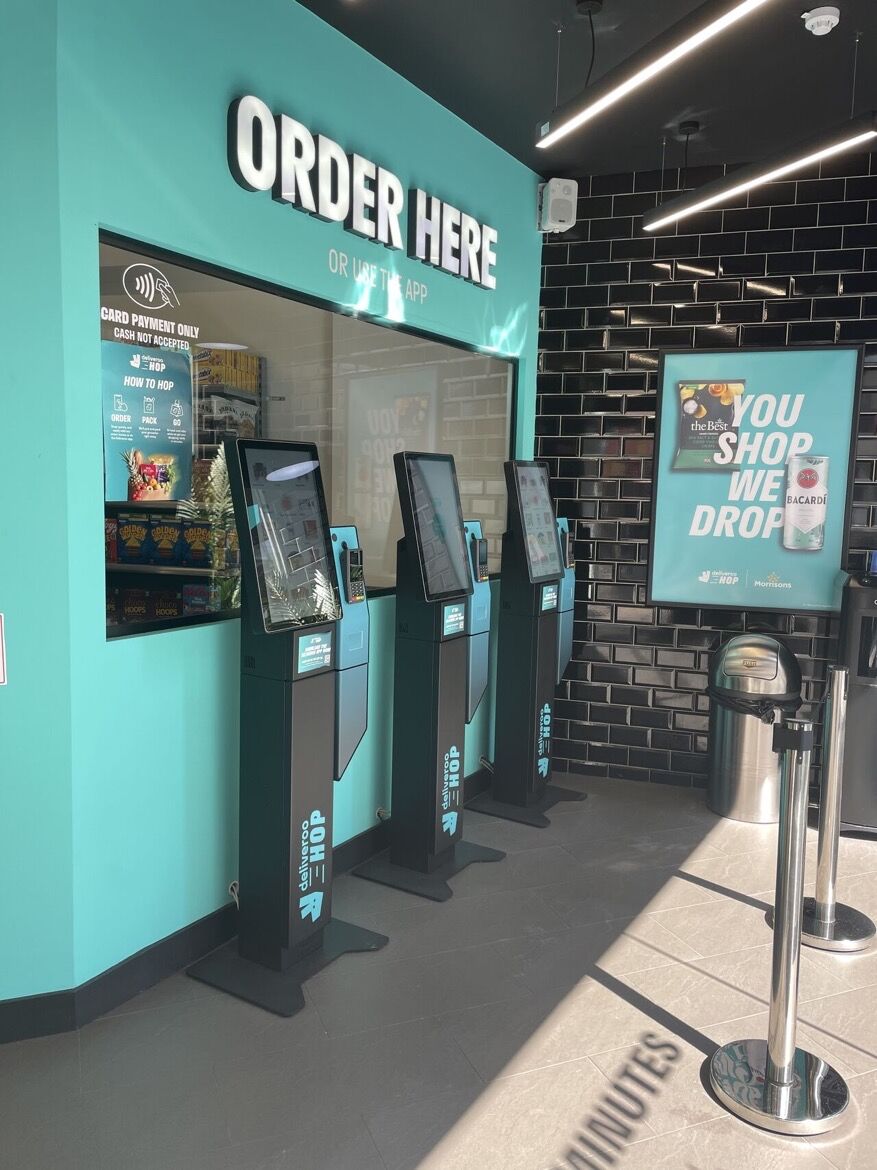 Deliveroo has launched a new rapid grocery delivery service. 'Deliveroo Hop' will operate from...