The future of physical retail will be defined by spaces and places that deliver experience, and digital touch-points will be a vital component in delivering this. DTC brands and retailers, will look to bigger and bolder digital formats, to help them create impact, outside of traditional retail spaces in malls and on high streets.
As consumers forge a stronger connection with the brands, they 'love/want/need' in their life, they'll look for physical and digital experiences that help them maintain this relationship. Retail is becoming more experience-lead from an impact perspective. Brands and retailers that adopt this approach will be able to take their brand through an entertainment journey, connecting their brand to e-gaming, music, sports and metaverse activations with greater purpose and credibility. To deliver this, physical stores will evolve, becoming bigger 'spaces' to create immersive environments with large format, interactive digital tools, to showcase product range and stimulate purchase intent. Behind the scenes, cavernous stockrooms will double as fulfilment centres for local area online purchases and fulfilment of same day deliveries.
Digitally driven entertainment is vitally important to the future prosperity of physical retail. For decades the 'theatre' of retail has attracted consumers into stores, and in-store visual merchandising has always influenced the consumer to make a purchase. Now in the digital age, it's vitally important for retail trade zones to offer dedicated entertainment attractions to drive footfall and create buzz in retail.
Theatre and Cinemas have always been an important part of the high street. In recent years, both entertainment sectors have struggled due to the global pandemic, and consumers adopting streaming services to deliver their entertainment needs. Similar to the impact that online shopping has had on physical retail, the consumer is becoming more needy and selective when it comes to real world entertainment. The consumer seeks something different. Something more immersive and experiential.
One major entertainment development that will help drive excitement and footfall in London, is OUTERNET located at the Tottenham Court Road-end of Oxford Street, which is loaded with super-sized digital impact to create immersive, multi-sensory experiences. Within OUTERNET there is also a 2000 seat underground theatre space, allowing the venue to host live entertainment, e-gaming events, and brand activations – with jaw-dropping impact.
OUTERNET is anchored by the NOW building, which features the world's biggest 360˚ 16K wraparound LED screens, creating an imposing exterior and interior feature. These screens will broadcast mesmerising content, focusing on film, music, art & e-gaming to spellbound visitors. The sheer scale and immersive impact of this space will drive footfall significantly, with locals and tourists eager to experience the digital shows on offer. The recent trend of 'Deep screen' outdoor media, prove that people will travel to see and experience a logic defying digital illusion. On a basic level, it's expected that OUTERNET will have 100m+ visitors per annum, this will be a huge footfall driver for surrounding retail and hospitality.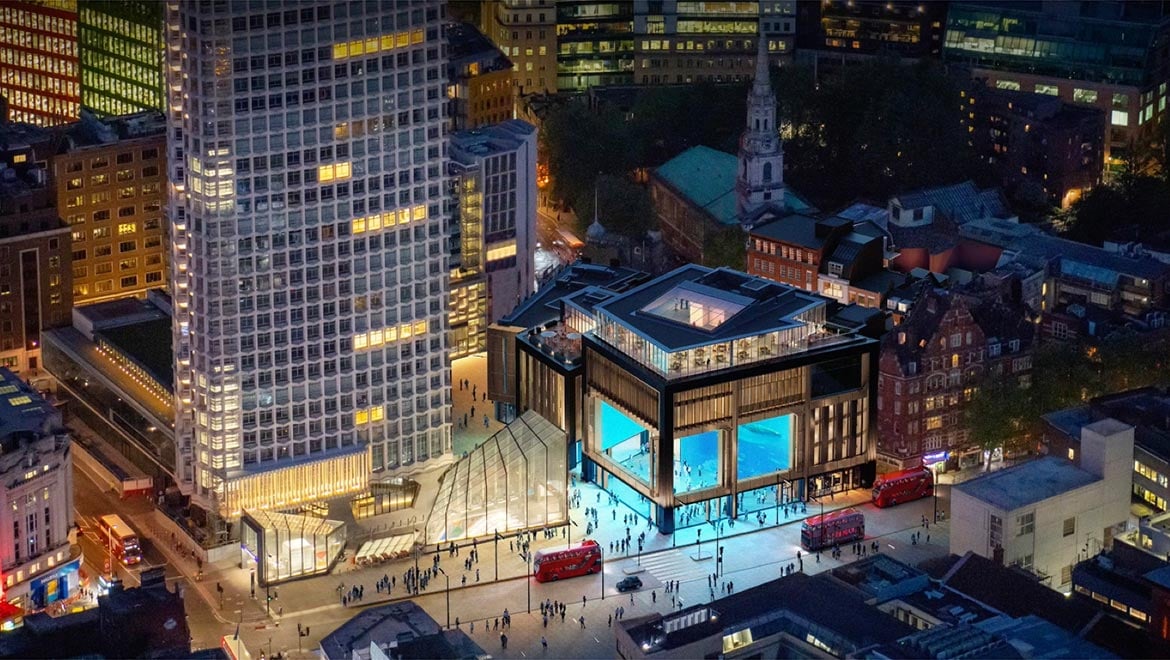 OUTERNET will be fully open this summer, with further locations opening in LA & NEW YORK in the next 2 years.
In addition to this. MSG (Madison square garden group) have just had their 'SPHERE' entertainment destination, approved by the London Legacy Development Corporation (LLDC), to be built in Stratford, West London. If you think OUTERNET is a bold example of how digital screens will drive impact in entertainment – SPHERE is on another level. MSG are currently building the first SPHERE at the Venetian hotel in Las Vegas. The inside and outside of the SPEHRE is covered in 16k LED panels, creating immersive impact on the exterior and within, as part of the 20,000-seat auditorium inside. With brands and entertainment giants ready take residency, perform or activate their brand – it's clear that this will be an awe-inspiring entertainment format of the future.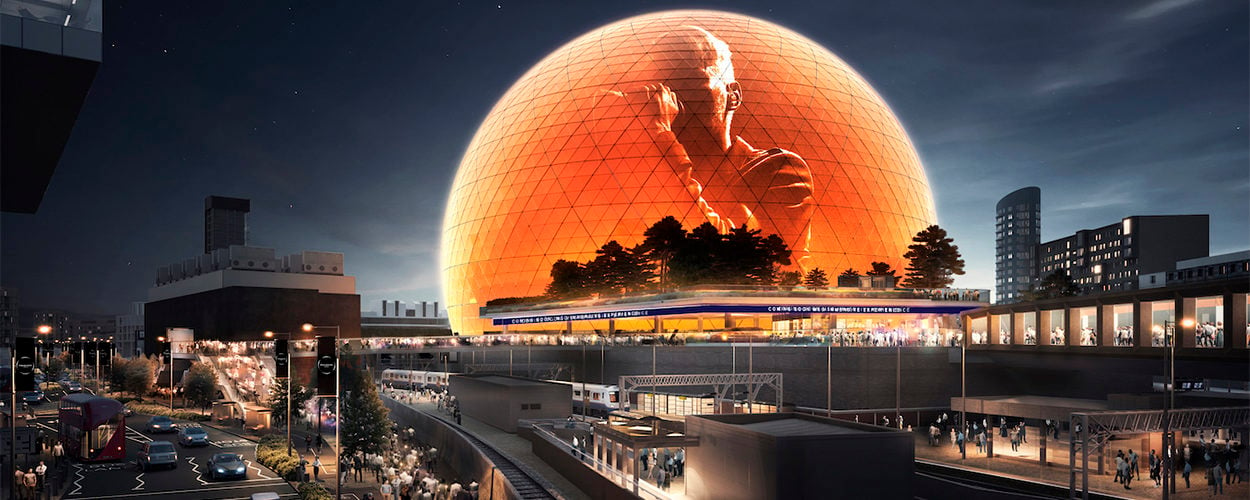 Away from global entertainment capitals, COOP Live, which is currently being built as part of the Etihad stadium Campus in Manchester, will be the biggest entertainment arena in the UK – primed with cutting edge visual technology and exceptional acoustics, to ensure that visitors receive a multi-sensory experience.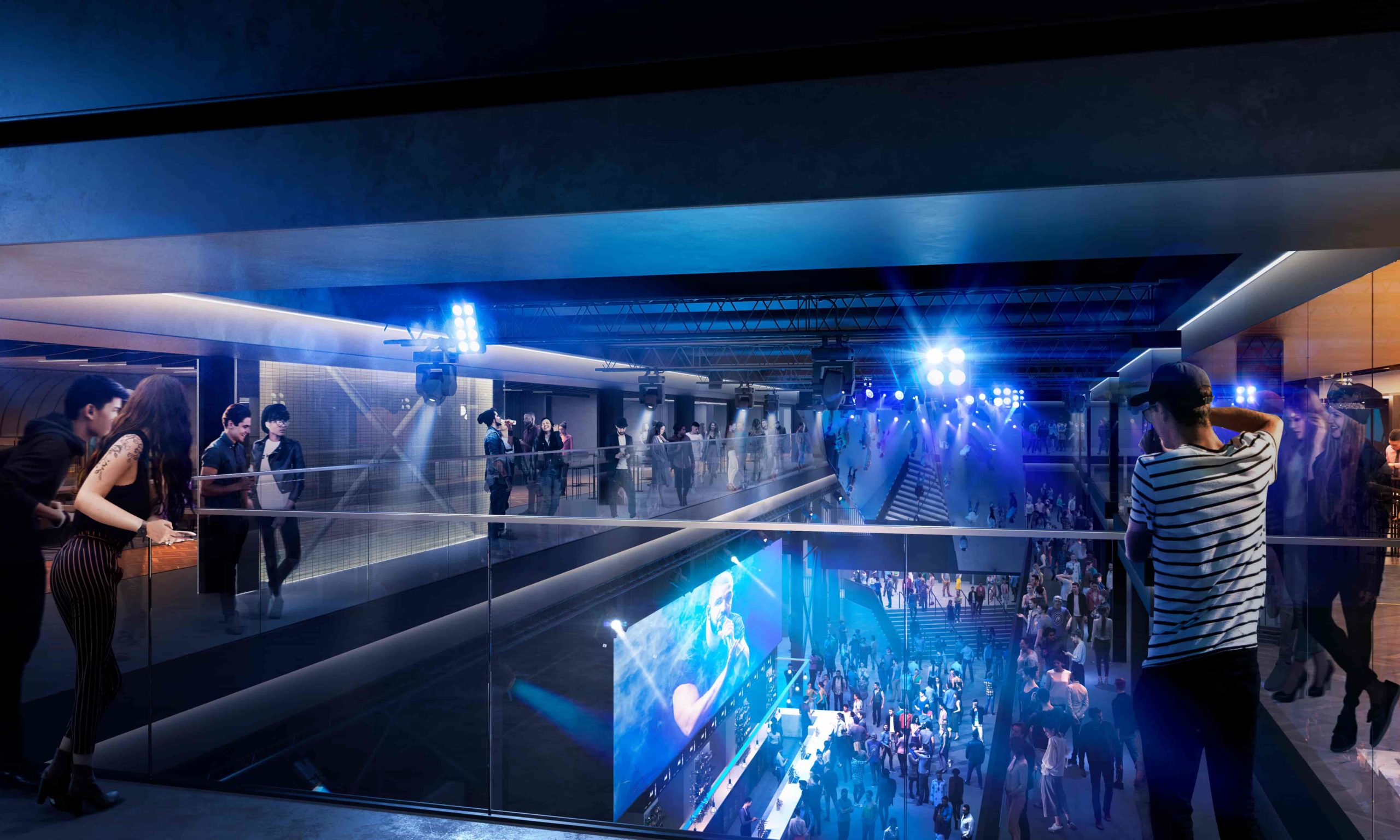 As we move through the 'digital revolution' it's important to create spaces and places where people can meet, eat, shop, and socialise. Delivering purpose, interaction and impact through digital tools is a massive part of this. Fundamentally, entertainment will play a significant part in the fortunes of physical retail. At a time when it's all too easy for a consumer to stream entertainment, order a Deliveroo and stay at home, it's vitally important that physical entertainment and retail 'get closer', influencing the consumer to seek-out real-world experiences – helping drive the lifeblood of retail – Footfall.
Related articles
.
--- Interactive kiosks have been helping businesses reduce costs, streamline processes, and increase... The travel industry has taken a huge hit over the last couple of years, but as travel restrictions...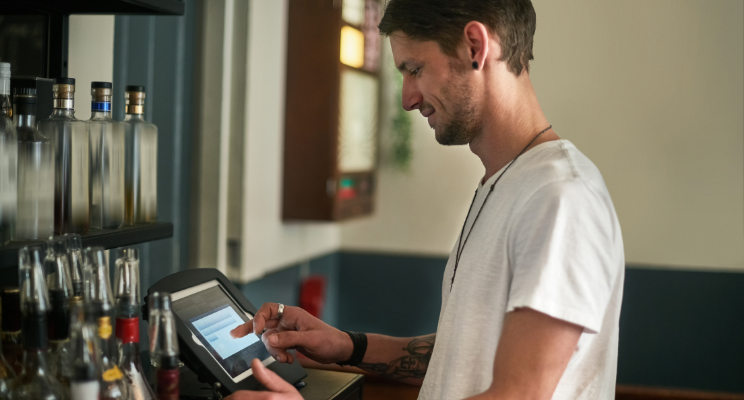 What's a Point of Sale (POS) system and why is it so important?