Physical retail experiences are becoming more and more digitally driven. Using the right digital tools help brands and retailers define, deliver, and maintain a fully connected consumer journey, which enhances brand desire and delivers commercial and operational efficiencies.
Consumer expectations of physical retail have become increasingly high, putting pressure on retailers to create more meaningful experiences in store. The way consumers shop is being redefined through new and innovative store formats and experiences. There's a clear shift from retailers just adding digital screens to an existing retail concept, to retailers planning in high-spec digital touchpoints, thoughtfully implemented into new retail design schemes at the start of the process, with specific objectives and success KPI's defined.
Brands and retailers that are slow to 'digitise & connect' their physical retail spaces are limiting the commercial success of their brand.
CONNECTING PHYSICAL AND ONLINE RETAIL EXPERIENCES CRUCIAL
The retail landscape is evolving fast. Whilst there is a move towards ecommerce, this has begun to slow, few consumers are willing to give up shopping in physical stores – preferring instead to find a balance between physical and digital shopping that suits their lifestyle.
To maintain consumer credibility, physical retail locations need to adapt by building better links between online and offline touchpoints. For fashion, footwear and luxury shoppers in particular, this will be a welcome future, as these consumers are very receptive to solutions that improve the physical retail experience.
INTEGRATING DIGITAL SOLUTIONS ADDS VALUE
Experience and ease of shop are two vital deliverables in modern retail. Digital touchpoints can help deliver this for your consumer. Recent findings reveal that consumers say they would be more likely to visit physical stores if they could benefit from digital services and experiences. The time is right to embrace digital tools, the global pandemic accelerated consumer adoption and comfort levels when using digital touchpoints in retail – and the retailers that are investing in this area are seeing the benefit.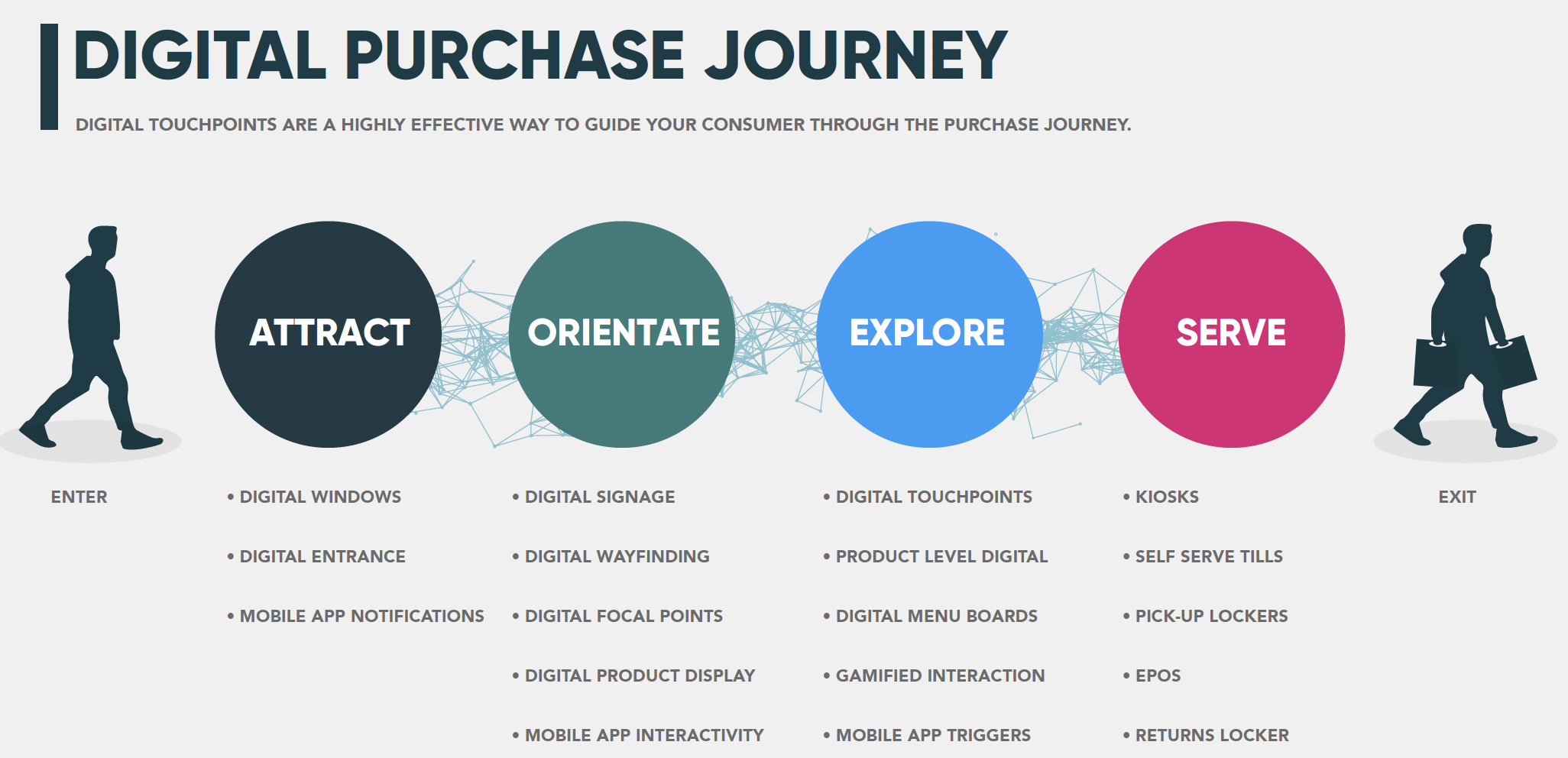 RELATIONSHIP
Successful retailers build and maintain a loyal relationship with their consumer, often built up over years (or even decades) of consistent consumer relevance and brand desire – product proposition, range, price, style, and function have always been important factors for a consumer when shopping with a brand.
However, in recent years more 'emotional' factors have become more important. A key defining influence in the emotive power of connection has been driven by ecommerce and social media. The emotional factors that a consumer considers when choosing a brand are now very broad, we've highlighted 4 factors that are vitally important to deliver in physical retail.

The above factors can be delivered with greater impact and efficiency, through digital touchpoints and connected mobile apps.
EXPERIENCE IS A PRODUCT THAT BRANDS CAN SELL
Stores are a showcase for your brand, an 'In Real Life' media channel to engage and excite your consumer. Supporting the brand values extolled through social media content and presented on ecommerce platforms. Having the right digital tools in physical retail, can help the consumer find a balance between online and offline shopping, that suits their needs.
Modern consumers are more discerning and informed than ever before. They're expecting a wider range of experiences that blend retail, music, dining, and entertainment. A recent study by Eventbrite, found that 72% of millennials prefer to spend their money on experiences, not stuff. Consumer needs are ever changing, arguably they are becoming less focused towards 'buying new stuff', consumer sentiment is now leaning towards more 'human' needs, such as recognition, inspiration, purpose, and respect.
Experiences have become an important social currency, core consumers enjoy celebrating life experiences online and through social channels. Recent research shows that millennials are the most brand-loyal generation primarily due to their habitual use of social media. These consumers aren't influenced by adverts or what brands say about themselves, rather by authenticity and connection, which is derived from experience.
There is big opportunity for retailers to draw consumers into their brand story using digital tools, deliver a remarkable brand and product experience, and establish relationships with consumers across multiple buying channels.
COMMUNITY – SAFETY IN NUMBERS
Consumers are humans, and humans thrive when they feel part of a close community. One brand that has mastered this concept is adidas; its Runtastic app creates personalised experiences and motivation for its global fitness community by delivering millions of personalised messages online every day. Rather than just selling shoes, adidas is selling an experience that connects customers to a like-minded community that can motivate people to lead healthier lives.
Let's not forget the 'new' brands that don't have a physical retail presence at all – selling exclusively online, but have built huge communities, using social media to build and scale their business model. Some of these brands are starting to make moves into physical retail. Gymshark are arguably the most high-profile lifestyle and fitness brand not to have a physical retail presence. This will change later this summer, as the brand opens their brand flagship store on London's Regent Street. Gymshark have a unique opportunity to bring their brand to life, in physical retail with a 100% new retail concept, not tainted by aged retail concept. The brand has stated that they want to create an experiential brand space that puts their community at the heart of the store. Whilst the store will be a transaction retail space, it will also offer experiential spaces, community hangouts and even workspaces, sounds innovative certainly a retail space to look out for!

PERSONALISATION
Typically, customers are usually identified when leaving a store, through payment activity at the checkout. But what if you can identify your consumer as they enter the store? This would open up huge opportunity to engage and personalise their shopper journey, and if a consumer is happy to 'opt-in' to this functionality, they can benefit from personalised offers and discounts, and tailored in-store experiences – helping the retailer maximise conversion rate.
In the last year, Amazon have pioneered 'Just Walk Out Technology' in their Amazon Fresh stores and have now opened 15 outlets in the UK and many more in the US. The success of this concept relies on a customer identifying themselves at an entrance barrier at the front of the store, by scanning a QR code generated by their Amazon Prime app. Amazon have already made their 'Just Walk Out Technology' available to the convenience retailers – a global marketplace expected to be worth $4.9 Trillion by the end of 2022.
Moving away from grocery, Amazon are also trialling Amazon Style stores in the U.S using a similar concept of identification and personalisation, giving the consumer a fashion shopping experience like no other – a potential game-changer for retail.
EFFICIENCY – CONNECTED RETAIL
Physical retail will remain the largest and most important channel for the majority of retailers, but only if stores evolve. Retail stores need to evolve aesthetically and digitally, to remain appealing to consumers. Store space needs to be leveraged effectively to craft out an environment that is conducive to shoppers. Stores can no longer operate as a single transactional touchpoint, they need to function differently and offer a wider range of services and purpose, to establish connected functionality with the consumers shopping needs.
In the last decade, digital transformation was about how stores could compete with e-commerce, by creating greater visual impact and ease of shop. This next phase of digital transformation needs to focus on the seamless integration of a digital framework, that upholds the relevance of shopping in physical retail, focusing on experience, personalisation, community and the commercial and operational efficiency that digital touchpoints deliver.
We work with some of the biggest and most innovative global retailers. Our portfolio of digital solutions and bespoke mobile app development, can help you transform your retail proposition.
If you want to know more please get in touch.
Related articles
.
--- As we are hopefully coming out from under the cloud of the Coronavirus there are plenty of reasons...