Self-service

kiosks.
Self-serve kiosks improve ABV, reduce wait times and offer ongoing ways for your customers to pay and search for what they want. They can be bold and eye catching, or discreet and perfectly positioned in high traffic areas, always on brand.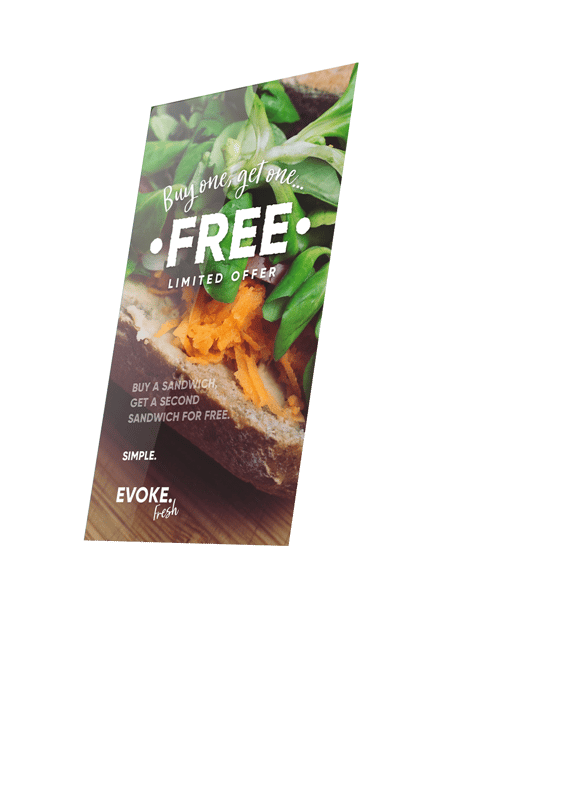 Efficient shopping journey

FULLY CUSTOMISABLE

INTERACTIVE BUYING EXPERIENCE

EVOKECLOUD PLATFORM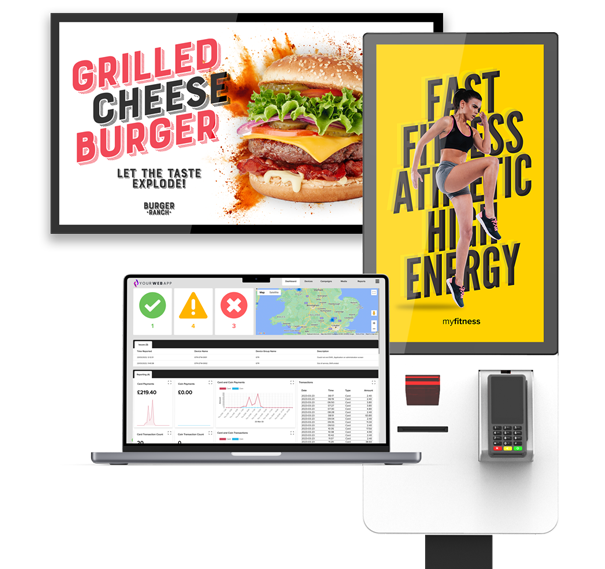 Did you know that self-serve kiosks can increase your average basket value by up to 30%? Not to mention the reduction in waiting times and improving your number of customers served by up to 75%!
We've had years of experience designing the perfect kiosks with integrated POS and CMS options for you with tools like Evoke Cloud. We also integrate with most systems, making it easy for you to add in great kiosks into your business.

Plus, we don't just stop there; we offer a range of service and care options to make sure you're always up to date and fully operational. If you're working on a bigger project, we offer full design & build services that integrate with multiple digital touchpoints.
I'll have one in every colour
Your kiosks don't have to come in plain white or black. You can have a colour that perfectly matches your brand, or why not try printed with a pattern or your logo?
Keep your customer experience at the heart of what you do and make sure that your kiosks stand out in the best way possible!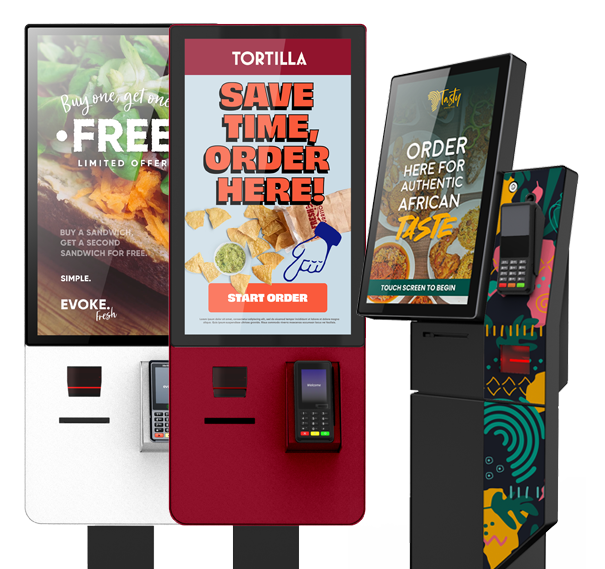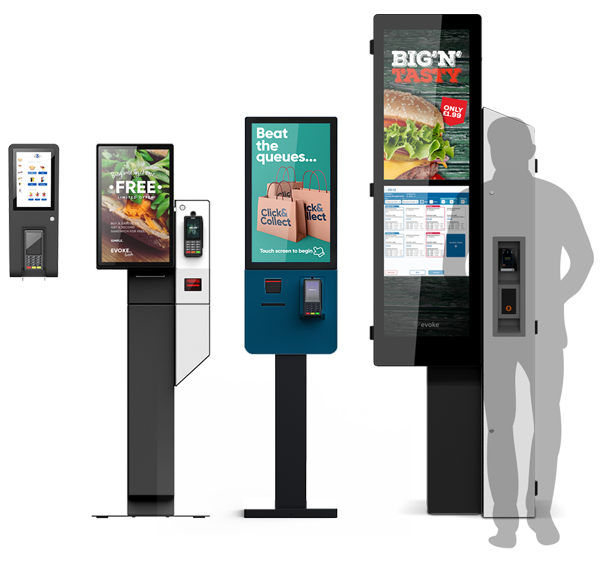 We've all seen and used the large kiosks out there, but did you know they come in pretty much any size you might want? We have the perfect kiosks to fit your layout, and grab your customers attention.
From self-serve kiosks that can be wall mounted for that discreet and subtle look, to big and bold kiosks that are designed to draw your customers' attention, or maybe even ones that merge functionality with advertising space.
Plus, adding on different tech, such as a printer or a scanner, and software integrations, means that you have true flexibility to build your perfect kiosk.
can improve average basket value by up to 30%
serve up to 75% more customers
customers want to use a self-checkout in store
EV SERVE.
compact, powerful, versatile.
The serve range is your classic kiosk. At 27 inches, single or double sided, wall or floor mounted this versatile kiosk can be used for ordering, self-checkout and ticketing and can be customised to your brand.
27" touchscreens

Single or double sided screens, wall or floor mounted, brand customisable chassis

Optional extras, including anti-glare, payment devices, scanning, printing, webcam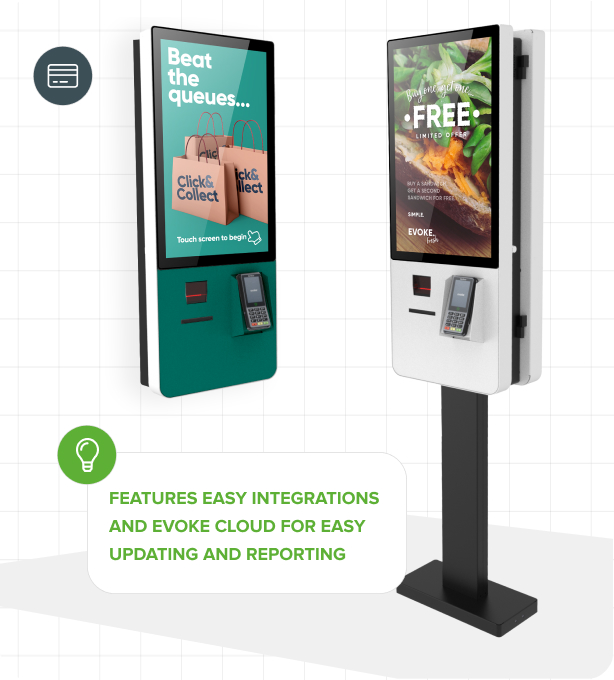 EV FLOW
customisable, versatile, proven.
The Flow is our most customisable kiosk on the market. Its modular build means that it can be bold enough to draw attention or discreet enough to work in any space.
15" or 22" touchscreens

Tabletop, wall mounted or free standing, branded with logos, colours and effects

Truly modular build, with anti-glare, scanning, printing, rfid and payment options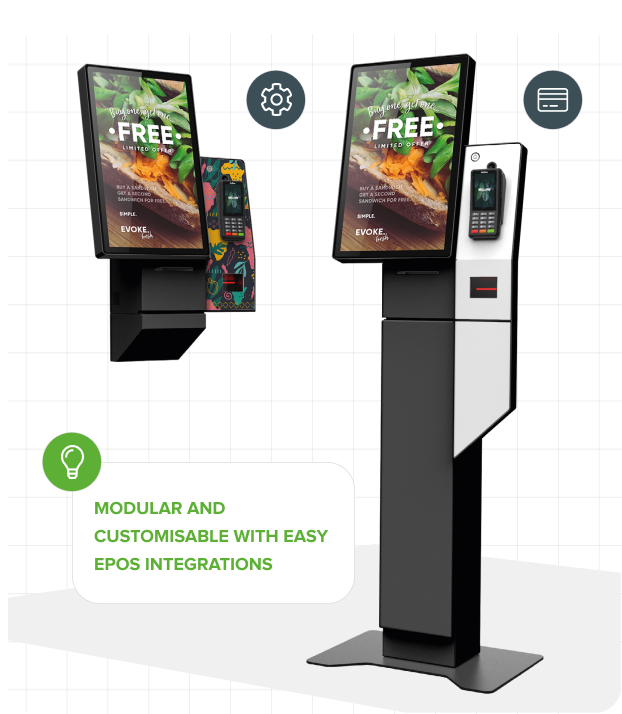 EV DUO
SLIMLINE, MODULAR, MULTI-USE.
Why use one screen when you can have two? Whether you're looking for a bold self-service kiosk, range extension options or branded wayfinding and loyalty options, the duo kiosks are slimline, modular and easy to use. It combines
Floor or wall mounted with different screen sizes

Two screens that can work together or independently, perfect for ticketing or range extensions

Options for anti-glare, scanning, payments and printing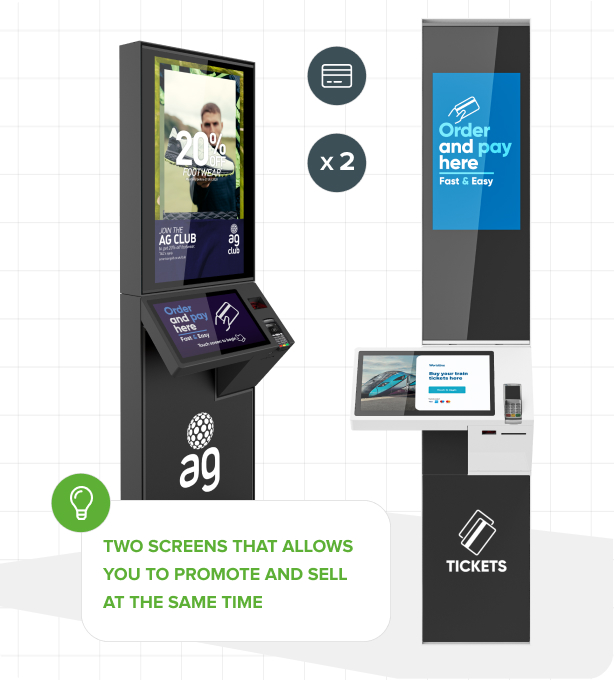 EV MINI
compact, powerful, versatile.
Our smallest kiosk is just a 10" screen and is perfect when you're looking to save space in high footfall areas. It doesn't skip on function either. It contains all the best features of our more standard kiosks, with the ability to pay, print and scan.
10" screen

Wall mounted and easy to use

A variety of options can be added including anti-glare, payments, scanning and printing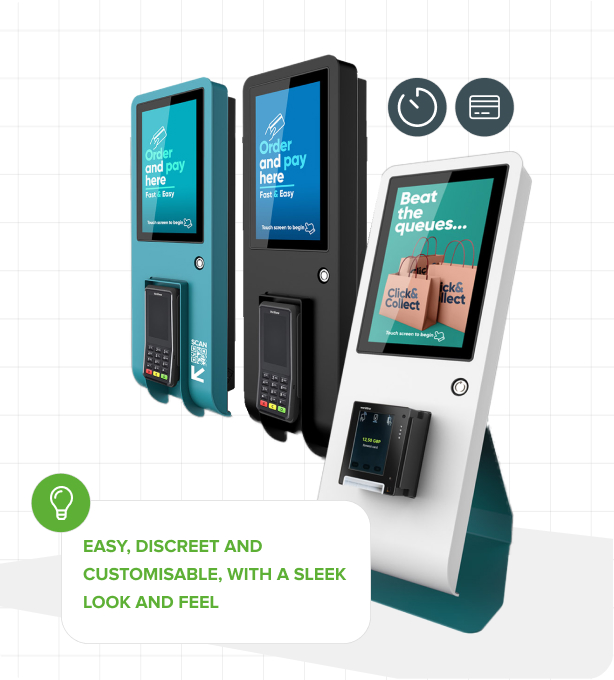 EV SAIL
customisable, versatile, proven.
If you want a kiosk for outdoors, the EV Sail range is perfect. Weather resistant, it's ideal for ticketing in car parks or leisure venues, offering a bright easy to use screen that works day or night in different lighting conditions.
A variety of screen sizes, single and double screens, with anti-glare suitable for different lighting conditions

Suitable for outdoors, weather resistant

Comes with a range of scanning and payment options and a customisable chassis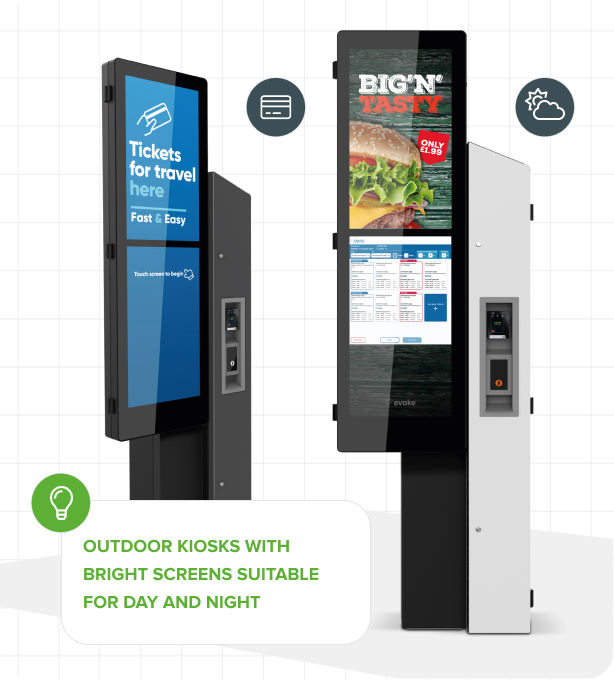 Smart Lockers & Returns
Our click & collect options combine our great touchscreens with a series of lockers that are safe, secure and easy to use. Let your customers shop how they want with our range of smart lockers.
We also offer a range of secure returns as well, designed to speed up the returns process in-store for customers and staff. Once identified using the built-in kiosk, the secure locker door is unlocked, allowing items to be placed inside, verified and then deposited in the bin below ready for staff collection.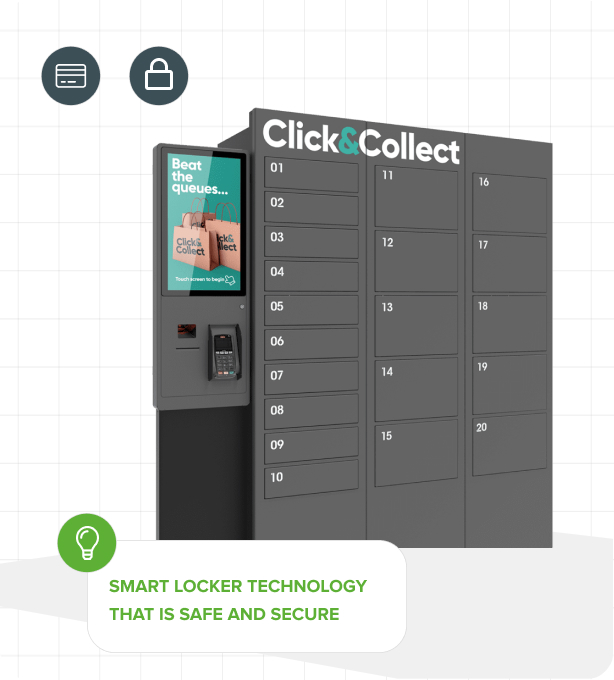 You've got all of your hardware set up across different locations and even time zones - so what next?
We know how time consuming it can be to update everything at each location. That's why all of our hardware solutions come with Evoke Cloud and Evoke OS. These will help you manage your entire estate at the click of a button, monitor all your hardware or even integrate with your existing tech stack.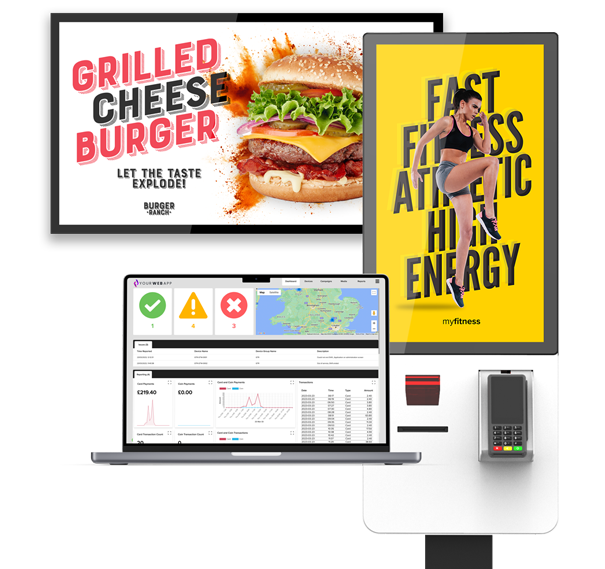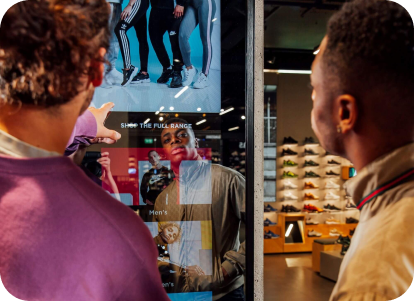 JD SPORTS
With over 2,000 stores worldwide, JD puts their customer relationships and in-store experiences at the heart of everything they do.
Read more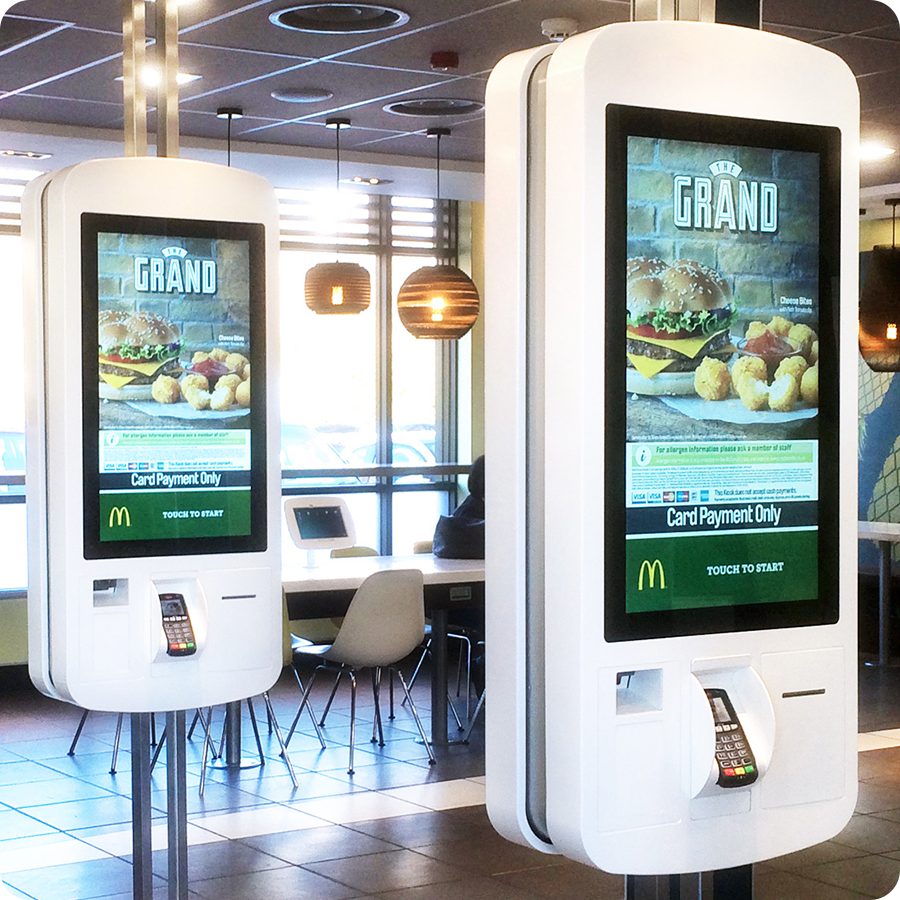 McDonalds
We've been working with McDonalds in the UK on their self-service kiosks since 2015. Find out how this brand really focus on the customer with tech.
Read more