Evoke Creative offers digital kiosk solutions to a range of customers, including charities. They worked with the Railway Children charity to maximise their Network Rail partnership, get their message seen in an engaging way and inspire the public to tap to donate.
In 2019, Railway Children entered into a five-year partnership with Network Rail and four other homeless charities in a campaign called Routes out of homelessness.
A year into the partnership, Railway Children were looking at the various ways they could maximise the opportunity to both raise awareness and increase donations amongst train passengers passing through Network Rail stations. Their issue though was how to convey the messaging that they were trying to get across. The partnership meant five different charities, all with different messages, were trying to reach and engage with the same people. They looked at various tap to donate options, however it seemed complicated in that they would need to be really clever in getting static messaging to grab people's attention and inspire them to donate.
They were then introduced to Evoke Creative who design digital kiosks but who hadn't worked in the charity sector before. They hoped that the digital kiosks, with tap to donate functionality, could help them get over the barrier of the static messaging and convey their key messages in an easy, inspiring way for the public to digest.
At the same time that we were working on this digital kiosk solution, Network Rail was working with a creative agency on an animation for Routes out of homelessness, which would be shown on the digital display screens in train stations. This meant that Railway Children had that creative to work with and could put on their digital kiosks, tying in the messaging.
A common message, across different platforms, is key
Much like you would at a gala dinner, you'd use screens to share and celebrate the great work that your charity is doing and how donations are used. The digital kiosks open up another opportunity to do this, albeit to a much wider audience.
Rather than being viewed as a functional donation device that can reduce operational costs, the kiosks should be viewed as a powerful marketing tool. They allow you to share your message with a new audience as well as your existing audience. They can also offer the opportunity to engage corporates in your work, and generate more income, by offering them prime advertising space.
Having a digital kiosk means that you can change up your campaigns whenever you like. Railway Children switched up their campaign for World Homeless Day, giving people another reason to engage in their work. All the content and reports are accessed remotely, allowing the charity to view daily donations and update the marketing messages as frequently as they like. The kiosks also offer the opportunity to take people on a supporter journey as they receive a 'thank you' message after their donation, as well as a message about the impact their donation has made.
Cash in no longer King
Cash has been dramatically reducing over the years and the pandemic has seen it reduce even further with many retailers not even wanting to accept cash payments. Contactless payments over the last 12 months, on the other hand, have increased by around 90 per cent and around 54 per cent of UK consumers have changed the way they pay, whether that's contactless cards or using a mobile wallet.
Habits have clearly changed in terms of how people pay and once a habit is established, it's very difficult to go back. This is a key consideration for charity fundraising – the decline of cash and the increase in contactless payments.
The donation kiosks are PCI DSS compliant, meaning that they are completely secure. Another advantage of card payments over cash, is that you get your money faster as it's paid into your bank account the next working day. Evoke Creative works with Worldline in the UK to offer the best solutions and the most competitive processing fees that they can. With the ability to dial-in remotely, the charity can see donations as and when they happen. They can also see which kiosks are performing better than others, therefore helping them understand if they perhaps need to change location to maximise footfall.
Top tips for digital kiosks
If you're looking to add a digital donation kiosk to your fundraising and marketing portfolio, there are a few things to consider.
Location is key. Think about maximising footfall to then maximise donations.
One size doesn't fit all. Evoke worked closely with Railway Children to give them a kiosk that worked for them.
A strong brand message is key, as well as engaging content to attract your audience.
Remember to refresh your campaign with new content, which can be easily managed remotely through cloud-based software.
Keep it simple! Sometimes you've got just seconds to engage people so the user-interface must be intuitive. Think about a fixed-donation method, saving time so people don't need to ponder on the donation amount. And the message needs to be compelling, for example: £5 to change a child's life.
In an increasingly cashless world, charities need to invest in digital fundraising solutions. Digital technology is just one part of the solution, what's key is the right messaging in the right place.
Related articles
.
---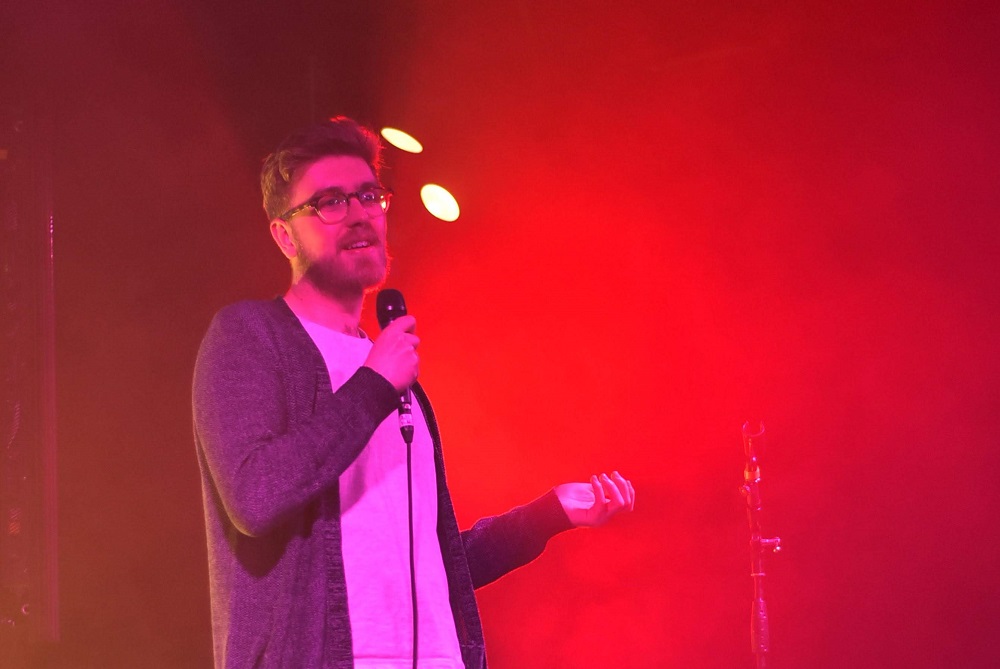 On 29 November 2018 our Business Analyst Callum Hough took to the stage to deliver a stand up...